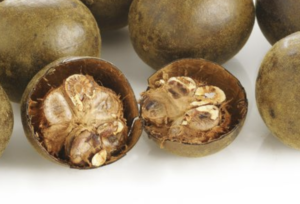 Lo Han the Sweetener
Yes, many think Lindsay LoHan is sweet, but we're talking about Lo Han (Monk fruit) fruit extract, the all-natural, non-caloric sweetener derived from the Chinese fruit known as "longevity fruit," Lo Han Kuo a Mogroside. It has a long history of safe use in both China and the United States and is 300 times sweeter than cane sugar while extremely low in calories.
Often called "the perfect sweetener," Lo Han has a low glycemic index and no adverse side effects. Lo Han can be found in many products sold in health food stores and is an excellent sweetener alternative for diabetics and calorie conscious consumers.
Other sweeteners from China
Rubososide extracted from the leaves of the Chinese Blackberry Bush (Rubus Suavissimus S. Lee) which can be 200 times sweeter than cane sugar.
Momordicoside commonly known as Bitter Melon Extract and derived from Bitter Melon (Momordica Charantia). Bitter melon is indigenous to China, but is widely used all over the world. Contrary to its name this extract has a sweet taste and is not bitter. It is an ideal substitute for cane sugar for diabetic patients.
There is also a Polysaccharide derived from the Shitake mushrooms.
Many wonderful plants exist that could provide us with the sweet taste we want, yet without the high calories and associated problems including obesity associated with cane sugar, yet the FDA seems bent on stifling, even outlawing their use in some cases (such as Stevia). Why is that?
Watch labels for these and other sweeteners, not chemical based but natural, and you'll know you're getting a quality product.
Want more? Read the 3 Best Tasting Monk Fruit Sweeteners