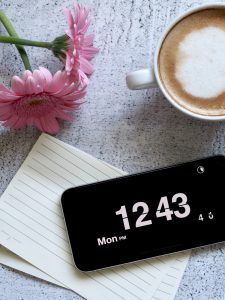 I quit smoking many years ago and the only way I could do it was by thinking ahead, not forever, not for a year or a month, or even a week, but one day at a time. Every day when I'd wake my first thoughts would be a decision for that day and that day only; "Today, I choose not to smoke. All day. No matter how badly I want to, I can make it through one little day. Just today. If I want to, I can smoke tomorrow, but not today. Just today. I can do this, I am doing this."
I spoke to myself that way when the urge came on strong, and believe me it did. Time after time. The urge to follow-through with old habits is strong. It's the same with eating less or eating differently. The urge to get the bag of chips is strong, and you won't be able to resist if you think in terms of "never eating chips again." It's too large – chunk it down to a manageable size. Just today.
Today I Choose …
"Today I choose to eat a healthy diet. Today I will forgo my usual 6-pack of beer and drink only pure water. Today. It's only for today. One day at a time. If I want to eat chips I'll have them tomorrow." Then, tomorrow, you decide again, for that day only.
Some days you'll decide not to eat a healthy diet. Big deal. It's okay. If you have a day where you'd like to skip it for that day, fine. Go ahead. The next day you decide again. Then the more often you decide to eat well, exercise, have fun, do things you enjoy, find other activities besides eating, then the weight will melt away, and you'll develop healthier habits at the same time. Doing it in this manner allows your old urges to slowly melt away until the intense desire to go get that bag of chips when you sit down to watch TV simply disappears. You no longer think about them. The habit is gone.
You won't have to do this every day for the rest of your life. Just long enough to break some old habits. Generally speaking I've heard it said that 21 days is what it takes to break a habit. I'd give it 30 days straight of deciding each and every day what you want for that day. Get a calendar and write it down, every day you make a choice, first thing in the morning. Choose to eat well or not, but make yourself aware that it is a choice and you'll feel less like you are not in control and as you progress, you'll be slowly getting back into those favorite pants you so long ago put away.
What have you tried?